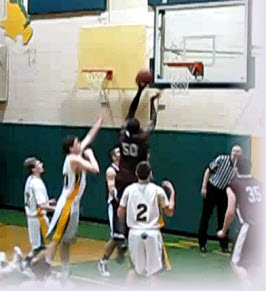 There's few tasks more daunting in all of Western New York high school sports than walking into Bishop Timon-St. Jude's gym on McKinley Parkway in South Buffalo and leaving with a victory during a winning Tigers season. Catholic rival St. Joes flirted big-time with being Timon's latest victim, but a last second bucket followed by a dominant overtime sent the Timon fans home in a sour mood.
Junior center Reggie Agbeko put in a loose ball after teammate Steve Moser's shot was blocked right before the final buzzer sounded to send the game to overtime. There, St. Joes outscored Timon in extra time 9-3 and forced six Tigers turnovers along the way as the Marauders ended Timon's undefeated season, 68-62.
As expected the game was a wild affair in front of a boisterous crowd that saw several lead changes and neither team get up by more than seven at any part of the game. St. Joes led at the end of the first quarter, 11-9 and clung to a 27-25 halftime lead.
In the third quarter Timon took their first lead since the score was 4-3 when Dave Scarcello hit a three-pointer to put the Tigers up 36-33. The teams nearly traded baskets the rest of the quarter and things were squared at 46-46 heading to the final eight minutes.
There Timon took control and seemed on their way to a 10th straight win to start the season after Kyle Kobis scored to put the Tigers up 58-53 with just 1:10 left to play. But Timon fell apart at the free throw line, missing three of four free throws down the stretch as Jake Spitler's key three-pointer with 53 seconds left cut the score to 58-56.
After a free throw by Agbeko to cut the lead to one, Kobis was fouled with 13.6 remaining. The normally sure-shooting Kobis missed his first free throw attempt before making his second, giving the Marauders a chance to tie the game with a field goal rather than a three-pointer.
The biggest Timon strength turned out to be their undoing. One of the better shooting teams in Western New York, the Tigers made just 11-of-19 free throws from the line and went 2-for-8 in the final quarter to keep a pesky St. Joes team around.
St. Joes jumped a stunned Tigers squad in overtime, getting two buckets from Chad Kelly, a field goal from Spitler and two Connor Rehbaum free throws to score the first eight points of overtime before Jordan Williams finally hit a three-pointer with 10 seconds left; far too late to stop the bleeding.
Timon did themselves no favors in overtime, throwing the ball around like it was on fire and taking numerous ill-advised shots. Simply put, on this night the team that's done the rattling all season got rattled themselves.
"There's no doubt we had all the momentum going once we were able to send it to overtime," Kelly said. " We kept our composure and heads in check every second of the game even when we weren't playing well. We knew if we could hang in there and survive their best shot that we'd be in it at the end of the game and find a way to get it done."
The Marauders, who improved to 10-4, were led with 20 points by Rehbaum. Agbeko and Spitler each had 13 points while Kelly had 12.
Timon (9-1) got 20 points from Kobis and 13 points from Ryan Dougherty. Williams added 13 points but struggled mightily from the field, as did all his teammates down the stretch.
"I wish we could have shot the ball a little better or made some free throws in crunch time," Timon coach Jim Palano said. "I'm disappointed w didn't win but I'm not disappointed in how hard we played."
If you're a St. Joes fan, you'll enjoy this video of Agbeko's put-back to send the game to overtime. If you're a Tigers guy—probably not so much.