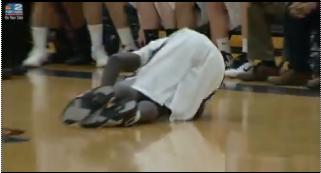 Posted on February 26, 2011 by Patrick Moran
It was certainly not a good omen for St. Joe's when on the game's opening tip, center Reggie Agbeko came down on his ankle and crumpled to the floor in pain for several minutes.  The Marauders biggest (literally) advantage was gone before their Manhattan Cup semifinal against Bishop Timon-St. Jude even started.
Fortunately for head coach Mark Simon, Chad Kelly will no longer be considered just a football star after tonight.  Combined with Tom Escott, the Marauders front court production remained steady as ever as St. Joe's advanced to Wednesday's championship game with a resounding 73-58 victory over Timon.
With the win, St. Joe's advances to their first Manhattan Cup final since defeating Nichols for the title in 2008.
A big reason they'll face Canisius Wednesday is because of an incredible performance by Kelly.  The 2010 Monsignor Martin Association football Player of the Year is often the last offensive option on a balanced St. Joe's basketball team, but with Agbeko out the team needed Kelly to step up.

Just as he's done on the football field, he delivered on the court.
Kelly scored 20 points and pulled in eight rebounds as St. Joe's defeated Timon for the third time this season.
"We played here all summer long together… the whole team before Reggie got here so we knew what we had to do," Kelly said.  "We are still a very confident team even without Reggie and he's our biggest guy and best rebounder and he just told me to go out there and get it done."
Pressed into a sudden starting role, the senior forward Escott had an outstanding game as well, finishing with 10 points, seven rebounds and three steals.
"Both those guys really did an outstanding job for us tonight," Simon said of his two forwards pressed into a more prominent role.  "Chad was aggressive and around the basket all night making big plays.  He's just an outstanding athlete and it really showed in a lot of ways."
Timon led at the end of a frantic first quarter, 19-17 as Bryant Fulton and Jordan Williams combined for 13 points in the game's first eight minutes.
But as its plagued Timon all season against good opponents, they broke down in the second quarter, started taking bad shots and committing foolish turnovers.  St. Joe's took full advantage, holding Timon scoreless over the final 5:35 and rode a 12-2 run into the locker room at halftime and a 31-23 lead.
A see-saw third quarter saw St. Joe's have an answer every time Timon tried to make a run.  Kelly and Escott combined for 10 third quarter points as the Marauders entered the final frame with a 50-38 lead, despite a buzzer beater three-pointer by Timon senior guard David Scarcello.
The trend continued in the final quarter as Timon never cut the deficit to less than 12 points.  In perfect demonstration of their effective team balance, six different players scored for St. Joe's in the final quarter alone.
Connor Rehbaum finished with 15 points for St. Joe's and did an outstanding job defensively on Williams, holding him to just one point over the decisive second and third quarters.   Keith Louie came off the bench to give his team 14 points and seven rebounds.
Williams and Scarcello led Timon with 14 points each while Kyle Kobis scored 13 and Bryant Fulton finished with 10, eight of them coming in the first quarter.
As for Agbeko's availability for Wednesday's championship game, Simon said that he'll be good to go when Joe's takes the floor against Canisius at 6pm.
"This has been awesome," Kelly said.  "To win a championship in football and now to have a chance to win a championship in basketball, what more can you ask for.  I'm really psyched to go out there and get it done."