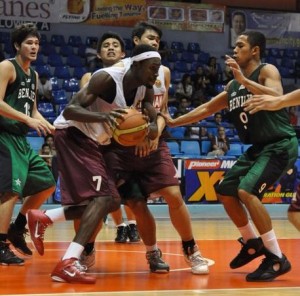 may 21 '11: UNIVERSITY of the Philippines center Alinko Mbah hit a highly improbable shot with his back to basket and 1.7 seconds remaining to give the Fighting Maroons a 78-76 win over Red Warriors and a ticket to the last eight in the 2011 FilOil Flying V Pre-Season Premier Cup last May 21 at the FIlOil Flying V Arena in San Juan.
UP head coach Ricky Dandan quipped after the game, "We'll take that. Better lucky than good."
The win came on the heels of a successful stint in the CESAFI Partners Cup semifinals, where the State U swept four different teams. Unfortunately, the trip left some lingering effects on the Maroons as players like Mike Silungan and Mbah were not 100 percent due to illness. Combo guard Jett Manuel missed the game entirely, sitting in civilian wear behind the UP bench.
Out of a UP timeout, Gamboa found Mbah, who hit what proved to be the game-winner despite being swarmed by the smaller UE defenders. UE burned its last timeout with just 1.7 seconds left, but playmaker Roi Sumang missed at the buzzer.